Carpet beetles
Either dark brown or oily back in colour, carpet beetles can cause massive damage to your clothing, furs, carpets and other items of fabric.
One of the less well known of New Zealand's pests, carpet beetles tend to fly under the radar as far as our call outs go. They shouldn't be overlooked though as they are often found inside homes and warehouses where they can cause catastrophic damage to anything with natural fibres and particles.
Although carpet beetles are not considered dangerous to humans they shouldn't be dismissed as a pest as they can be extremely destructive if left untreated. Classified as nuisance pests, female carpet beetles lay around 30 to 100 eggs each litter so it is important to get in quick before infestation spreads. Each of these eggs will hatch into an organism whose sole purpose in life is to consume as much natural fibres as possible, namely your homes fabrics! Avoid all this and the damage it'll cause your home's carpets and curtains with our unrivalled services. Whether its residential or commercial, our team of professionals have the know how to rid your home of carpet beetles once and for all. If however your home and its fabrics are already teeming with the little nasties then much more drastic action is required. Following on from a thorough inspection, we will devise a property specific plan for your home and the riddance of your unwanted visitors. This can involve the permanent disposal of infected carpets and other fabrics so as to avoid this it is recommended to get onto extermination as quickly as possible. Either way we will have your home and its fabrics carpet beetle free in no time at all.
Carpet beetles are especially inclined towards items such as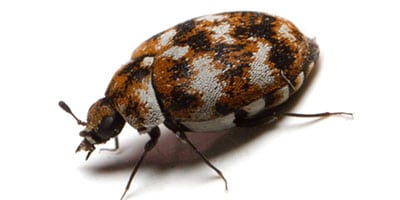 Here at Walkers Pest Control we offer services for the following pests:
Registered Pest Control Technicians
1010 State Highway 22, Paerata, Pukekohe, Franklin
Rid Your Home or Business
of Annoying Pests Today!
Call Walkers Pest Control on 027 478 9857 now and have your pest issues taken care of effectively and efficiently with our safe, environmentally friendly products and services.
Proudly Servicing the Communities of South Auckland